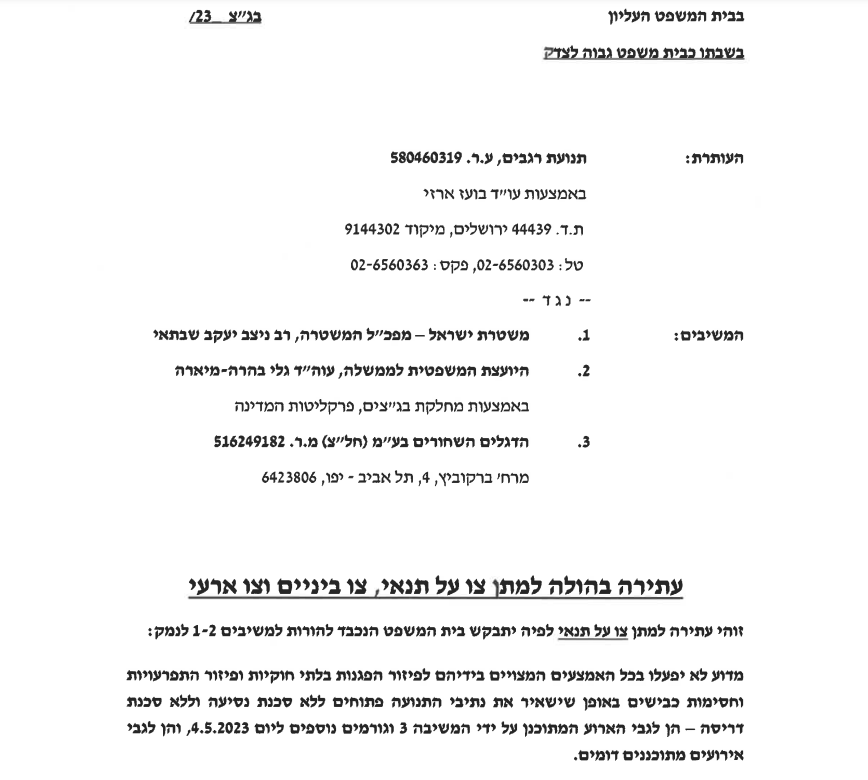 The Regavim Movement submitted a petition to the High Court this morning (Wednesday) demanding that the Police Commissioner and the Attorney General be required to stop the 'Day of Disruption' protest planned this week and investigate its leaders for sedition and incitement to commit crimes.
After a number of urgent appeals to the Police Commissioner went unanswered, this morning the Regavim Movement filed a petition in the High Court of Justice against the Israel Police, the Attorney General and the "Black Flags" Movement, demanding investigation and indictment of "protest" leaders who are calling for large-scale illegal action, including blocking roads and intersections, demonstrations and rioting – all without permits as required by law, in violation of freedom of movement, freedom of occupation, security and public order.
"The publicity for the "Day of Disruption" encourages people to join protest actions, as it has in the past: planned, deliberate illegal activity including blocking roads and intersections and the disruption of public order at dozens of points throughout the State of Israel – none of it ever having received a demonstration permit. This wild and illegal activity has caused, and will cause, a risk to transportation routes and public spaces, confrontations with passers-by who object to the violation of their freedom of movement, and more," according to the petition.
The petition further charges the Israel Police with repeatedly failure to fulfil its duty to maintain public order, to protect the public interest and to maintain and uphold the law. Thus, the Israeli public has become accustomed to weekly reports of the blockage of the Ayalon Highway by rioters who "spill over" from the anti-judicial reform demonstrations, leaving the Israel Police powerless to prevent the shutdown of the main traffic artery in the Gush Dan region.
Regavim's petition cites former President Aharon Barak's ruling regarding roadblocks during the 2005 Gaza Disengagement: "Freedom of speech is not a permit for rioting; violence is the opposite of permitted speech. Freedom of speech is not a permit for incitement; freedom of speech is not a permit for rebellion. Indeed, freedom of speech (and demonstration) does not protect the freedom to prevent a woman in labor from reaching the hospital; freedom of speech (and demonstration) does not protect the freedom to prevent the fire department from arriving at the scene of a fire; freedom of speech (and demonstration) does not protect the freedom to paralyze law enforcement mechanisms and bring about their collapse; freedom of demonstration does not protect freedom "to bring the country to a halt" and endanger personal and public security. Anyone claiming the right to take these liberties in the name of freedom of expression, does not make this claim from the point of view of democracy, but from the point of view of anarchy."
"The State of Israel is in anarchy – under the auspices of the Israel Police and the judicial system," says Meir Deutsch, CEO of the Regavim Movement. "We respect legitimate protest actions, but the opponents of the government have long since crossed every red line. The campaign of incitement and hatred that is being waged against millions of voters must be stopped, and the mortal blows that are being inflicted on the citizens of the State of Israel, the resilience of the IDF and the fabric of Israeli society must be halted. The time has come for the Supreme Court to intervene. This same Court knew how to stand up to the opponents of the Gaza disengagement, declaring "the rhetoric of democracy and human rights in their mouths, but their actions are of anarchy and violation of human rights. No democratic country should agree to this." We demand that the law be upheld no less vigilantly today."