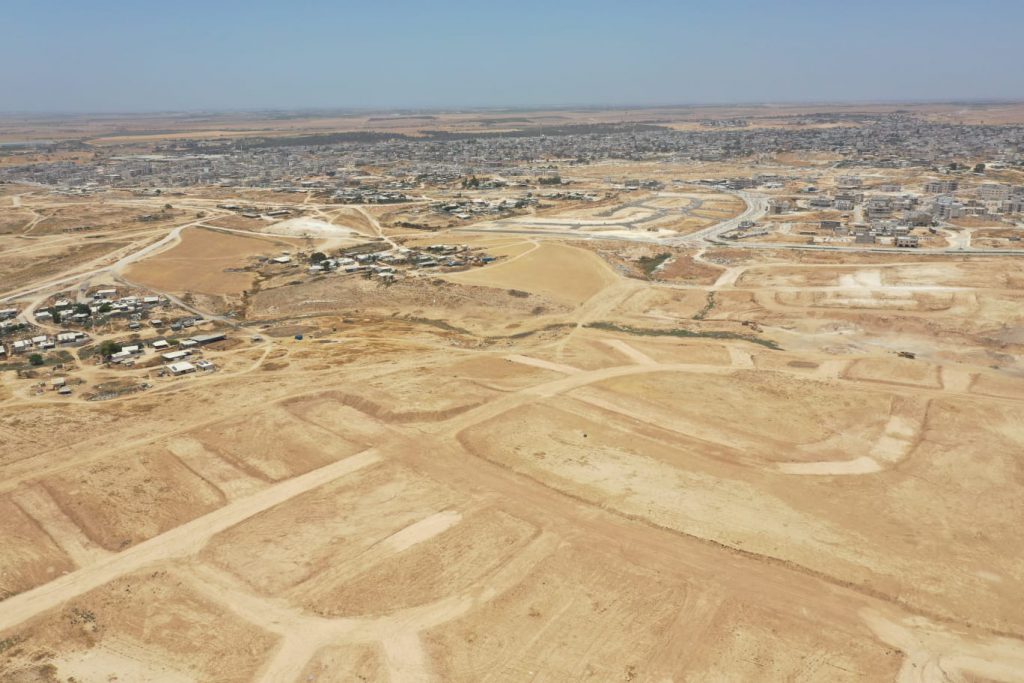 Today (Wednesday, 8 June) the Supreme Court denied a petition filed by the Rahat Municipality – neutralizing one more attempt to sabotage the relocation of thousands of Bedouin squatters and the regulation of Bedouin settlement in the Negev. Regavim: "The Bedouin leadership itself is throwing the monkey-wrench into the works and obstructing the regulation process."
Earlier today (Wednesday), the High Court of Justice (HCJ) rejected a petition submitted by the Rahat Municipality against the State's decision to allocate plots of land in a new neighborhood for resettlement of members of the Abu Quider clan who have been squatting illegally on privately-owned land. The government decision to develop a new neighborhood in Rahat for this clan was taken many years ago, but has languished, unimplemented, ever since.
More than three decades have passed since an agreement between the Bedouin Authority and representatives of the Abu Quider tribe was signed. The plan was to resettle squatters in permanent housing in Rahat, but it was opposed by the municipality, which claimed that the land in question was needed for "natural growth" of the existing population of Rahat who would be at an unfair disadvantage if the Abu Quider agreement is upheld. Over the years, in the context of attempts to reach a compromise through mediation, Rahat's municipal lines were expanded – at the expense of the neighboring Bnei Shimon Regional Council – in order to set aside plots for "natural growth;" the cost to the Israeli taxpayer was hundreds of millions of shekels.
Today's HCJ decision refuted the Rahat Municipality's claims that the resettlement agreement with the Abu Quider clan would result in discriminate against the residents of Rahat or create inequality. The Court determined that the steps taken by the Bedouin Authority were all fully within its purview; the Bedouin Authority has both the authority and the responsibility to develop new neighborhoods for the resettlement of squatters. The judicial panel, headed by Judge Khaled Kabub, was "unconvinced" that the authorities' behavior was disproportionate to the extent that judicial intervention was required. At the same time, the Court upheld the State's argument that Rahat's land reserves are sufficient to meet the needs of natural growth for decades to come.
The decision clears the last remaining obstacle to the relocation of the squatters into the city and the return of the land commandeered by the Abu Quider clan to its rightful owners. It should be noted that Regavim and the legal owners of the land upon which the Abu Quider squatters continue to live petitioned the HCJ a decade ago. The legal process for that petition, which dragged on for years, resulted in a High Court decision that required the evacuation of the squatters and the return of the stolen land to its legal owners – but did not make specific demands upon the State to take action, due to the Rahat Municipality's objections.
"Abu-Sahiban, the mayor of Rahat, is doing everything in his power to sabotage resettlement and regulation efforts," says Meir Deutsch, Director General of Regavim. "During the long years of legal procrastination, the Rahat Municipality has extorted more and more land and ever-expanding development budgets with one hand, while with the other hand it has obstructed the state's regulation efforts. Today, the High Court finally put an end to this. We hope to soon see the land in al-Zarnug returned to its rightful owners."
Related Posts
Land policy
ו' טבת התשפ"ג
-
30 December 2022
To mark the 49th anniversary of the passing of David Ben-Gurion, we launched our "Sde Boker Initiative." This comprehensive roadmap for the future of the Negev is the result of 16 years of fieldwork, analysis, legal research and activism that have enabled us to formulate a vision for the future, looking ahead to 2050 through the […]
Land policy
כ"ח חשון התשפ"ג
-
22 November 2022
This evening (Tuesday) the High Court of Justice rejected a "Peace Now" petition arguing that Israel's land allocation policy in Judea and Samaria is discriminatory and demanding that territory be granted to Palestinians in Efrat. Regavim: "As far as the left-wing organizations are concerned, no tactic is off limits when it comes to harming the […]