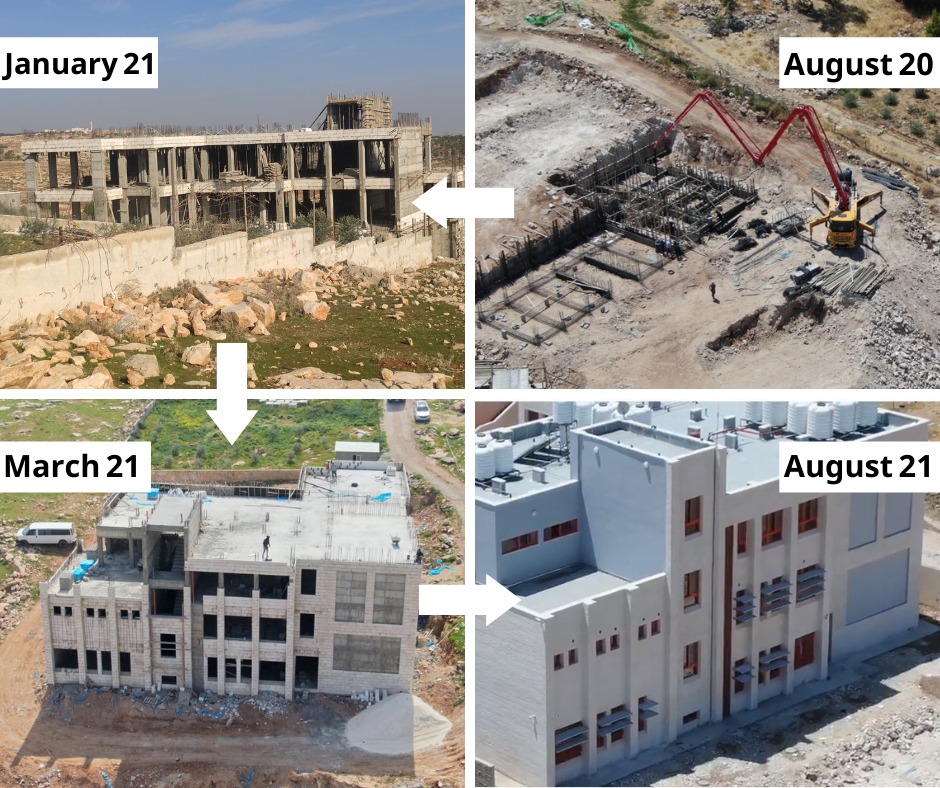 It took a mere 12 months for the Palestinian Authority to build this enormous, impressive, and illegal school in Kisan, eastern Gush Etzion.
As soon as construction was underway, we petitioned the Jerusalem District Court – since the Israeli authorities did absolutely nothing to prevent yet another land grab. In response to our petition, the State representatives told the judges that Stop Work Orders and demolition orders had been issued against the illegal structure, however they refused to commit to a timetable of when the law would be enforced. Unfortunately, the Court accepted the State's claims and rejected our petition.
The months passed by, construction was completed, and students are now pouring into the school.
We promised not to allow the story to end this way, so we've decided to file another petition with the Court. Rather than rewarding illegal activity, the State should be made to close down the school!
This school is merely one example of a widespread phenomenon. Recently, we published – in Hebrew – a comprehensive report about illegal, PA-built schools in Area C. The English version should be available in the nearby future. Our report reveals that, over the last decade, the Palestinian Authority has built 100 (!) schools without permits in strategic areas.
You might be thinking: 'These schools are crucial for the education of Palestinian schoolchildren!' But no. Our data indicates that these schools are no humanitarian necessity; they were quickly set up, without permits, in order to advance the Fayyad plan. The density in PA schools (313 students on average per school) is lower than in Israeli schools (337 students on average per school) and much lower than the density in schools in Jordan (476.9 students on average).
An analysis of our data also proves that these new schools weren't built to compensate for problems of long distances. All of the schools, without exception, were established between a few hundred meters to three kilometers from already-existing schools.
You see, the PA knows all too well that Israel is unlikely to knock down the illegal schools. If Israeli authorities enforce the law, the media pump out heartbreaking photos of underprivileged children being 'denied' an education. If Israel turns a blind eye in order to avoid a black eye, the schools become anchors for new outposts in previously uninhabited – and generally uninhabitable – areas, and more funding pours in to alleviate the humanitarian hardships of these fabricated communities.
On a daily basis, the PA works to change the map, seizing strategic points throughout the territory. We call on the State of Israel to internalize, once and for all, that in the BattleforAreaC it has a right, responsibility, and a national interest to prevent illegal Palestinian construction. Time to wake up, before a de-facto Palestinian terror state is established in Israel's heartland!
Related Posts
Illegal schools
כ"ג אייר התשפ"ג
-
14 May 2023
Following our petition, Civil Administration forces tore down an illegal Palestinian school, built in the Herodion Nature Reserve and Heritage Site in Gush Etzion. 63 days after the Jerusalem District Court ordered to seal off and demolish the illegal structure, and despite UN efforts to delay law enforcement, the school was taken down. This school […]
Illegal schools
ג' שבט התשפ"ב
-
05 January 2022
Switzerland is a supposedly neutral country that doesn't take sides in any conflict and remained (or at least claimed to be) neutral during both world wars. Well, it turns out that the "conflict" in Judea and Samaria can tilt even the most neutral forces. A few weeks ago, we sent a letter to the Swiss […]