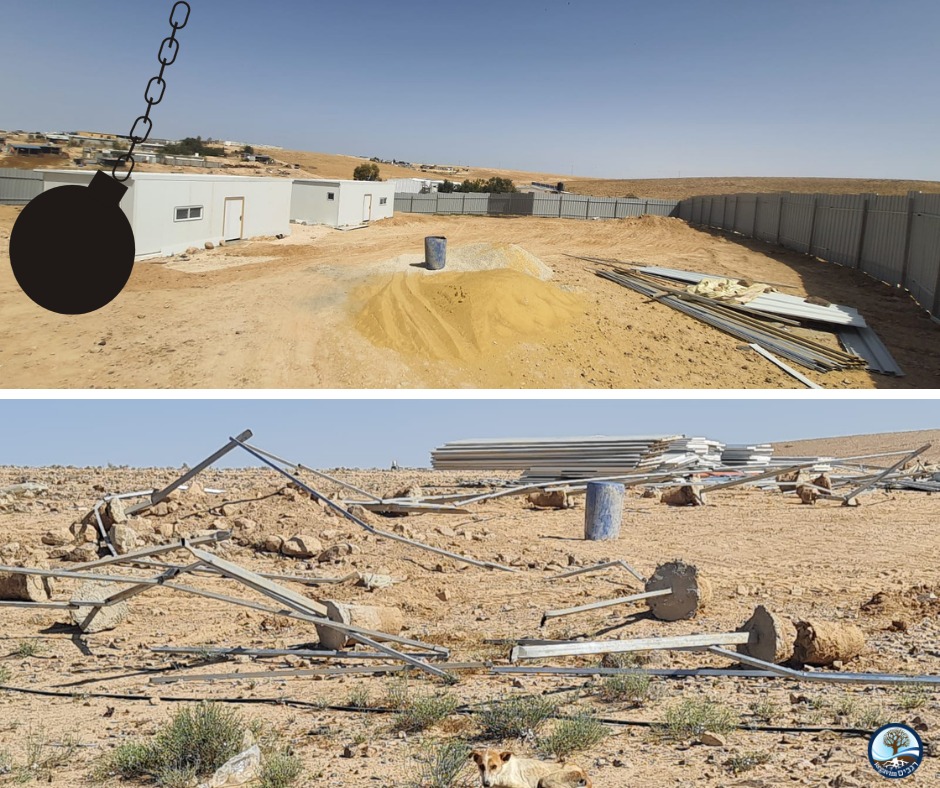 A resident of Kuseife, a legal Bedouin town in the Negev founded in 1982, decided to expand his assets, and illegally took over land part of the unrecognized Al-Fura squatters' camp.
A few months ago, the resident, who already owns a big villa in Kuseife, began to build a huge compound containing two living spaces. The construction started without permission or supervision during the Passover holiday, seeking to take advantage of the enforcement officials being on vacation.
Regavim immediately identified the threat posed to the entire area by the massive compound, and we demanded that the enforcement authorities remove the structure and restore the land to its original state.
At the beginning of June, the construction criminal tore down the structure he built following warnings he received from the National Enforcement Unit (NEU). The swift action taken by the NEU in this case is significant. It's ridiculous that a resident of a legal town, established by the State of Israel, can build without permits and 'join' an illegal Bedouin squatters' camp. Such cases must not be repeated!
We welcome the NEU's quick and efficient steps. We call on the authorities to hold the construction criminal fully accountable; he should clean up all the mess he left behind!
Related Posts
Land policy
י"ג אלול התשפ"ג
-
30 August 2023
Beer Sheva District Court instructs the government to remove the squatters of Al Zarnog: "The State cannot condone the violation of individual proprietary rights." A decisively-worded verdict was recently handed down by Judge Chani Slotki of the Be'er Sheva District Court, in a petition demanding that enforcement procedures be taken against hundreds of Bedouin squatters […]
Land policy
י"א אלול התשפ"ג
-
28 August 2023
Under a newly adopted law, the "reasonableness doctrine," created by former Chief Justice Aharon Barak as a means of vastly expanding the power of Israel's High Court to overrule policy choices made by officials, has been curtailed. In what may come as a surprise to critics of the move in Israel and abroad, the sky has not fallen, […]