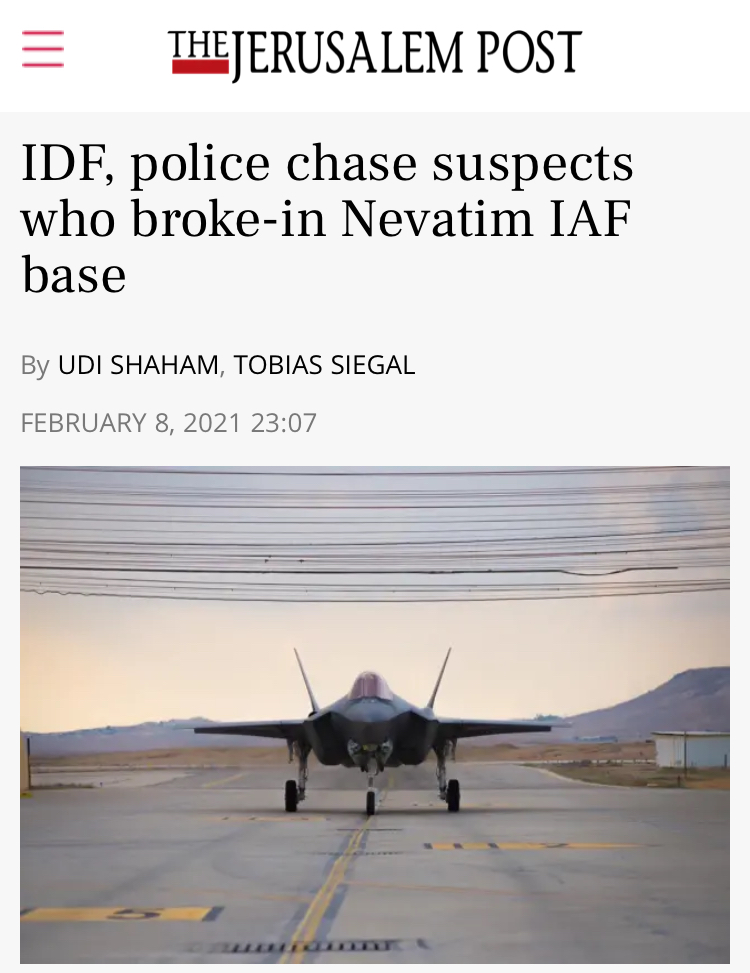 Ignoring a small problem allows it to turn into a big problem.
Last night's case in point:
Bedouin bandits infiltrated the Israel Air Force base at Nevatim; IAF helicopters engaged in an hours-long chase.
The State of Israel has been ignoring the cracks in law and order in the Negev for so long, they've become a "grand canyon" – and tonight's events in the Negev prove the point.
In the last two weeks alone the Negev has seen horrific and varied forms of criminal behavior: The shocking sexual assault of a little girl in her home, the break-in at the Israel Air Force base at Sde Teiman that included a stun grenade attack on our soldiers, a string of robberies in Be'er Sheva that were caught on film and uploaded to social media, the desecration of a Jewish cemetery, a massive ammunition heist, and now, a break-in at the Nevatim base, where Israel's top-secret aeronautical technology is housed.
It's time for the State of Israel to draw a line in the sand. For the sake of each and every citizen of Israel, we demand that the government formulate a comprehensive, non-negotiable solution to the problem of Bedouin crime in the Negev.
Related Posts
Erosion of governance
ח' תמוז התשפ"ג
-
27 June 2023
Big news for the State of Israel: The government has outlined a historic and strategic plan that will restore governance and personal safety to the Negev. Last week, Prime Minister Netanyahu convened a meeting of the Ministerial Committee on Legalizing the Settlement, and the Economic Development, of the Bedouin Sector in the Negev to discuss […]
Erosion of governance
י"ב אייר התשפ"ג
-
03 May 2023
The Regavim Movement submitted a petition to the High Court this morning (Wednesday) demanding that the Police Commissioner and the Attorney General be required to stop the 'Day of Disruption' protest planned this week and investigate its leaders for sedition and incitement to commit crimes. After a number of urgent appeals to the Police Commissioner […]