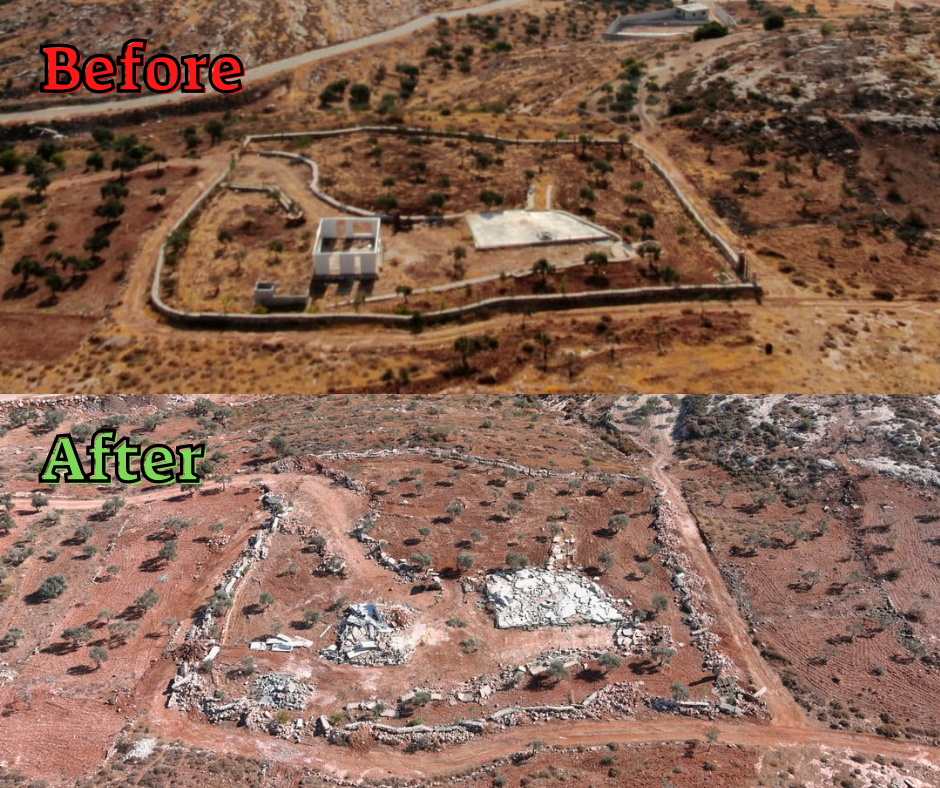 A few months ago, we posted about the Arab invasion of Israeli lands between the Binyamin region and the Jordan Valley, next to the village of Duma. Near the Alon Road, Duma residents began a mass takeover of Israeli state lands: illegal structures, roads, fences, etc.
The illegal structures were built a significant distance from the village. The Palestinian Authority's tactic is simple; we've noticed the same pattern time and again: they identify a strategic point far away from an already-existing population center, seize the entire territory, find another location farther away, build, and so on.
We approached the authorities a number of times about this issue, and applied pressure for the law to be enforced. Soon after, this week, the enforcement authorities restored the area to its original state and tore down the illegal structures.
This is an example of what we do on a daily basis. It starts with a presence on the ground, as our field coordinators throughout the country monitor and document illegal land grabs. We then alert the authorities and apply legal pressure to uphold the law.
Want to support our activities? Make an online, tax-deductible donation here.
Related Posts
Battle for Area C
ח' אדר התשפ"ג
-
01 March 2023
In a hearing of the Foreign Affairs and Defense Committee on the repeal of the Disengagement Law, Avraham Binyamin last week, Director of Regavim's Policy Division, presented documentation of massive illegal Palestinian construction in northern Samaria in general, and particularly on the ruins of the Ganim, Kadim and Sa-Noor communities that were de-populated as part […]
Battle for Area C
א' שבט התשפ"ג
-
23 January 2023
This morning (Monday), Likud MKs Danny Danon and Yoel (Yuli) Edelstein joined the Regvaim Movement and the Jerusalem Environs Forum – and faced by a pro-Palestinian demonstration. Regavim: "The question isn't whether or not, but how and when the outpost will be evacuated." The deadline for the state's response in the Khan al Ahmar case […]