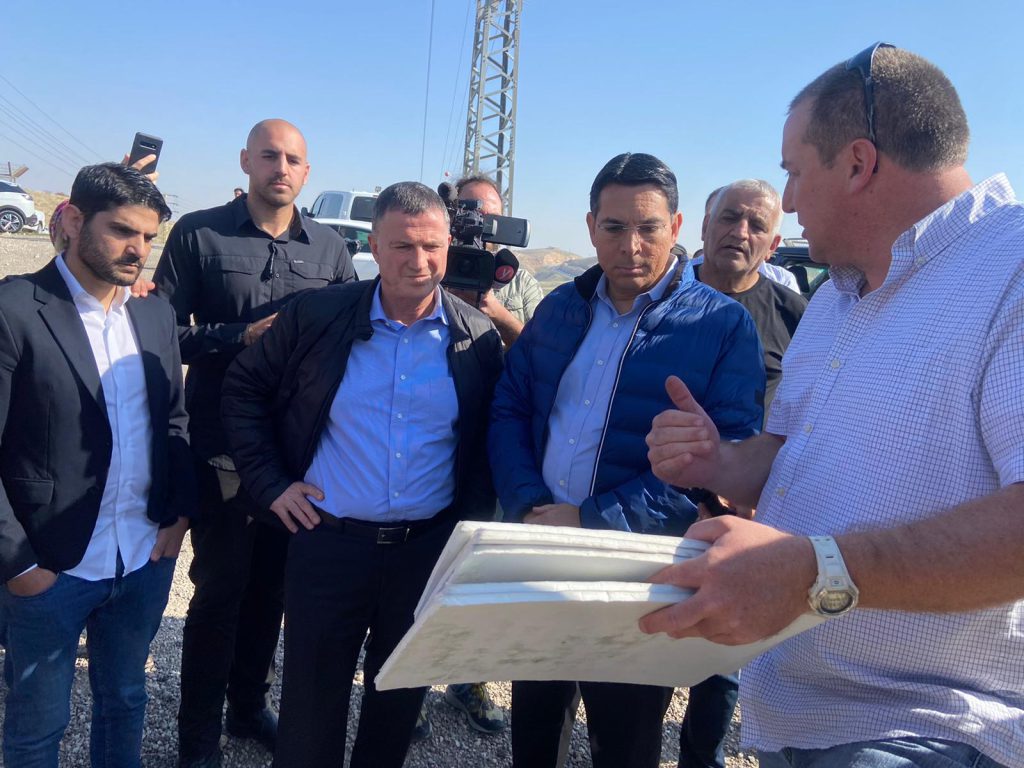 This morning (Monday), Likud MKs Danny Danon and Yoel (Yuli) Edelstein joined the Regvaim Movement and the Jerusalem Environs Forum – and faced by a pro-Palestinian demonstration. Regavim: "The question isn't whether or not, but how and when the outpost will be evacuated."
The deadline for the state's response in the Khan al Ahmar case is rapidly approaching – and the political pressure is climbing. This morning (Monday), World Likud Chairman MK Danny Danon and Chairman of the Knesset Foreign Affairs and Defense Committee MK Yoel (Yuli) Edelstein were joined by Likud activists on a tour of Khan al Ahmar hosted by the Regavim Movement and the Forum for Jerusalem Satellite Communities. A group Palestinian Arab and leftist activists protested nearby, waving Palestinian flags.
Less than 2 weeks remain for the state to submit its response to the High Court of Justice in the sixth petition submitted by the Regavim Movement regarding the illegal outpost adjacent to Route 1, the main access road connecting Jerusalem to the Dead Sea and Israel's eastern border. This most recent deadline marks the eighth time the state has delayed compliance. The fast-approaching deadline of 1 February is the ninth such extension granted by the High Court – which also declared that it would be the last.
MK Danny Danon: "I have come here today to strengthen our government as it prepares its response to the High Court regarding the evacuation of this site. Israel is a state governed by law and order, and we must not accept selective enforcement. Khan al Ahmar must be evacuated immediately. I am well acquainted with the international community. Our friends around the world will understand that there can be no place for selective enforcement that discriminates against Jews in Judea and Samaria."
Meir Deutsch, Director General of Regavim: "The State of Israel must understand that this is a mega-issue that goes far beyond the Khan al Ahmar outpost. Our annual documentation and mapping of the illegal construction in Area C proves that in the past decade the Palestinian Authority has taken tremendous strides toward establishing a de facto state in the heart of the Land of Israel – and the government is simply closing its eyes to reality."
"The new government must prove to the voters who elected them that it is a real Zionist nationalist government – and place the Battle for Area C at the top of the agenda. The question regarding Khan al Ahmar is no longer whether the outpost will be evacuated, but when and how."
Related Posts
E1: Adumim Region
י"א שבט התשפ"ג
-
02 February 2023
For the ninth time: the State of Israel asks the High Court to allow another postponement of its response to Regavim's petition for the evacuation of the Palestinian Authority's flagship outpost, Khan al Ahmar. Regavim: "A right-wing government is tested by deeds, not by words." The extension granted to the state four months ago to […]
E1: Adumim Region
י' אדר ב' התשפ"ב
-
13 March 2022
High Court issues conditional order: We are forced to move toward a conclusion in the matter of Khan al Ahmar This evening (Sunday) the High Court of Justice issued a conditional order in the most recent round of the Khan al Ahmar case. Tonight's order, giving the government 120 days to explain its failure to […]