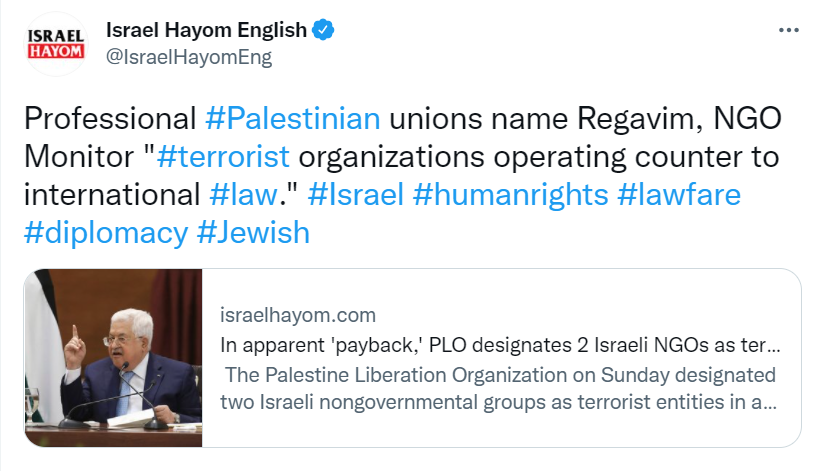 Last weekend, Minister of Defense Benny Gantz announced that six Palestinian NGOs have ties with the PFLP. In response, the Palestine Liberation Organization (PLO) designated Regavim and NGO Monitor as terrorist organizations.
The PLO called on international bodies to break off all relations with us and NGO Monitor, claiming that our activities are carried out in conjunction with the Shin Bet and in line with the instructions of the "occupation government".
The Palestinians probably don't understand the difference between civic engagement and terrorist activities.Terrorist activities include the murder of innocent civilians, paying salaries to terrorists who have murdered men, women, and children simply for being Jewish.
Civic engagement, meanwhile, is what we've been doing for the past 16 years. Regavim has dedicated itself to the protection of Israel's most basic and most scarce resources – first and foremost, the land itself. We monitor, document, research, and report on illegal use of these resources, and work to promote policy and legislation that expresses the Zionist vision for a safe and prosperous Jewish homeland.
In this context, we have exposed the terrorist affiliations of numerous foreign-funded Palestinian 'civil society' organizations that have co-opted the language of humanitarian rights to disguise their goal of eradicating the Jewish State and its citizens.
Honestly, we're proud to be labelled a terrorist entity by the Palestinian Authority. It means we're doing something right.
We'll continue our fight to protect Israel's resources, preserve Israeli sovereignty, fight the illegal takeover of Area C, and expose the murderous activities of supposedly 'humanitarian' organizations.
Related Posts
General
כ"ו אדר התשפ"ג
-
19 March 2023
In the heart of the Land of Israel, an exclusive new housing project is underway. To qualify for this prime location you must have Jewish blood on your hands: Eligibility is for those who have served a minimum 5-year prison sentence in an Israeli security prison. Recently, work began on a new neighborhood of 100 […]
General
י"ח אדר התשפ"ג
-
11 March 2023
In the case of Jordanian Law #40, the racist law still in force that prevents individual Jews from buying land in Judea and Samaria, the High Court of Justice claimed that there is no justifiable reason to intervene. When Regavim petitioned against the law, the High Court judges sent us to the legislator. However, in […]