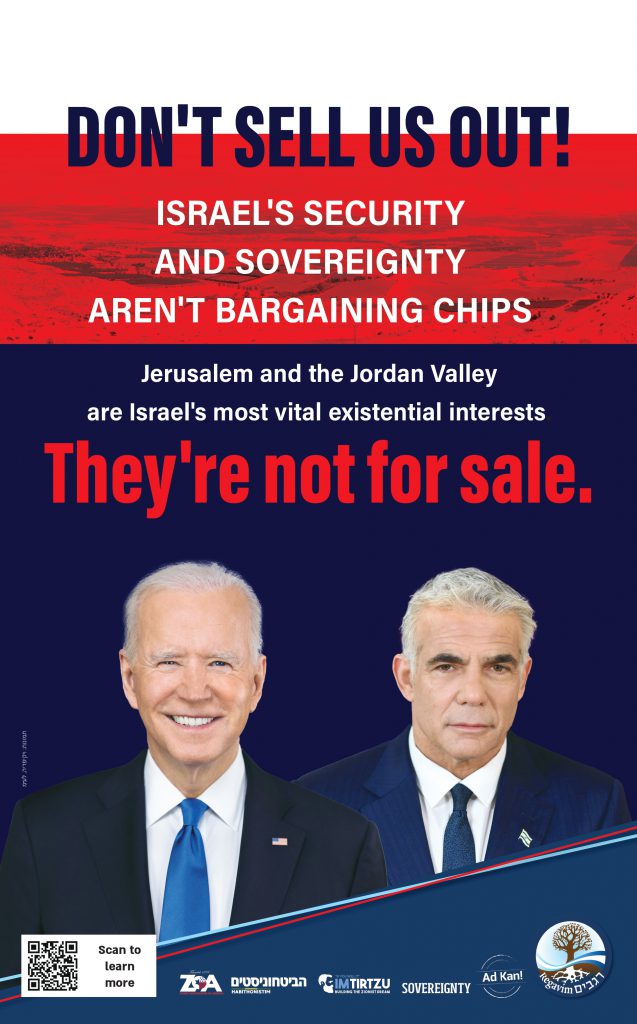 Don't sell us out!
Israel's security and sovereignty aren't bargaining chips!
President Biden: Don't exploit Israel's unstable political landscape to extract historic concessions from an interim government that may be tempted to pay an enormously high price to shore up their election prospects.
Prime Minister Lapid: Don't sell out our national interests for photo-ops with visitng dignitaries who have agendas of their own.
The itinerary of President Biden's visit, scheduled for 13-15 July, includes several things that are tremendously problematic for Israel's sovereignty and security:
A first-of-its-kind visit by a US President to East Jerusalem without any Israeli presence or accompaniment, signaling that our capital is divided between two independent sovereigns, constituting a substantive violation of US law, Israeli law and diplomatic protocol;
Solidifying Israeli agreement to a Palestinian Authority presence at the Allenby Border Crossing, signaling joint sovereignty and authority over our border and the secession of our our control and sovereignty over the Jordan Valley;
Official recognition of the upgraded status of the Palestinian Affairs Office as a de facto embassy to Palestine in West Jerusalem, with an eye towards opening a full embassy in the East Jerusalem consular building, shut down by the Trump Administration.
Jerusalem and the Jordan Valley are Israel's most vital existential interests.
They're not for sale.
Related Posts
Battle for Area C
ח' אדר התשפ"ג
-
01 March 2023
In a hearing of the Foreign Affairs and Defense Committee on the repeal of the Disengagement Law, Avraham Binyamin last week, Director of Regavim's Policy Division, presented documentation of massive illegal Palestinian construction in northern Samaria in general, and particularly on the ruins of the Ganim, Kadim and Sa-Noor communities that were de-populated as part […]
Battle for Area C
א' שבט התשפ"ג
-
23 January 2023
This morning (Monday), Likud MKs Danny Danon and Yoel (Yuli) Edelstein joined the Regvaim Movement and the Jerusalem Environs Forum – and faced by a pro-Palestinian demonstration. Regavim: "The question isn't whether or not, but how and when the outpost will be evacuated." The deadline for the state's response in the Khan al Ahmar case […]