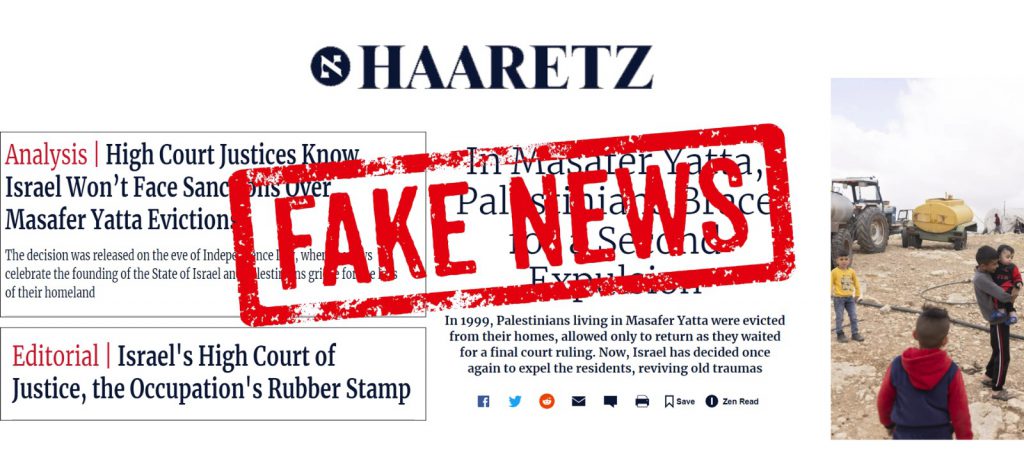 Last weekend, Israel's High Court of Justice (HCJ) handed down a decision on a petition that's been pending for two decades. The High Court allowed for hundreds of Palestinian invaders to be evicted from Training Ground 918, an IDF training zone in the South Hebron Hills region. The complicated case has been discussed in the courtrooms for no less than 20 years – a discussion that's been based mainly on Fake News peddled by radical left-wing NGOs and the Palestinian Authority.

After repeatedly preventing any enforcement action against the invaders (who, in the meantime, built hundreds of additional illegal structures), the HCJ examined the aerial photos and maps, which prove beyond doubt that there was never any permanent Arab settlement in the area before it was declared an IDF training zone.

The Court's verdict confirmed the obvious, and green-lighted the eviction of the invaders and return of the territory to the hands of the IDF.

It took two decades (!) for the HCJ to reach the right decision about 30,000 dunams that were stolen from the State of Israel – two decades too long, during which the case became more complex, problematic, and entangled in legal bureaucracy.

The Courts' misguided and boundless leniency toward Palestinian intruders, even when at the expense of Israelis' security and safety, proves to be a disaster, time and again. Instead of dealing with the problem in 918 early on, the State of Israel now needs to confront a difficult reality on the ground.

In the last few days, unsurprisingly, the Haaretz newspaper launched a propaganda campaign about the "Masafer Yatta eviction". However, the facts are quite different, as we told you back in February 2021 >> see here.
Related Posts
"Masafer Yatta"
ד' תמוז התשפ"ב
-
03 July 2022
The Masafer Yatta case illustrates how leftist propaganda manipulates the kind hearts and good intentions of people in Israel and around the world. It's a whale of a tale that has enabled anti-Israel organizations, foreign governments and the Palestinian Authority to turn run-of-the mill illegal construction into a massive international issue. It also illustrates that […]
"Masafer Yatta"
כ"ב שבט התשפ"א
-
04 February 2021
This week, the IDF held a military exercise that began in the Negev in Biq'at Arad and ended in Training Ground 918 in the South Hebron Hills. Shouldn't be much of a big deal, right? Well, far-left organizations such as B'Tselem pounced on this opportunity to attack the IDF, claiming that the drills were held […]